Hire
Some of our Popular Local Venues
Our Freedom Rentals hire service enables you to design your own self-guided tours or perhaps you just need a few kayaks as part of a fun day out on the coast. You can access areas not possible without a boat and a kayak is the best way to see our coast.
We can assist you with your journey. Options include a return trip from a beach base or a one way trip where we arrange a car shuttle or we meet you at the end point to pick up kayaks and bring your driver(s) back to your vehicle(s) Please enquire also about our multi-day hire options.
Ngunguru River and Waitoi Creek
The sheltered waters of Ngunguru River provide a range of options for beginners, family and social groups. Explore the large mangrove systems or iconic Ngunguru Sandspit, the history of the Ngunguru River or find a beach for a great day out. A popular trip is to paddle one way from Scows landing to Ngunguru township and in the right conditions this trip could be extended to Whangaumu Bay.
Waitoi Creek is a long winding waterway running into the river and is the Guides favourite due to the changing landscape from Mangrove Forest, native forest and finally wetlands. This trip can be run in all weathers as it is narrow and winds its way up a sheltered valley with a picnic spot at the top of the creek.
Tutukaka
Tutukaka Harbour offers a more rugged setting for self-guided groups while still retaining some shelter from wind and swell. Hire groups will find great snorkeling, fishing and picnic spots on both sides of the harbour and there is a safe access to Rocky bay via "the gap" best on full tide. Otherwise kayaking is great at any time of the tide. An added attraction is a short walk up to the Tutukaka Lighthouse which affords magnificent views of the coast including the Poor Knights. The track can be accessed from the twin coves at the base of the Tutukaka Headland.
Matapouri and Whale Bay
The Matapouri estuary is the most sheltered venue for family kayaking when the tide is high and when the swell is low you can cross the bar and venture into the bay. The Bay is the most beautiful crescent shape with great swimming on the north end where you can access the Mermaid Pool and there is a short walk to Pebbly Bay for snorkeling. A track also continues to Whale Bay along the coast. There are great picnic spots under the pohutukawa trees. Whale Bay is a very popular family beach and is safe for swimming. It is best accessed from Woolley's Bay when there is no swell.
Whangarei Harbour
From the Town Basin and Onerahi to Urquharts Bay there is a diverse range of paddling options. These include mangrove forests, two small Marine Reserves, sandbars, small islands and historical sites such as Limestone Island. Launching spots include Town Basin, Onerahi, Waikaraka, Tamaterau, Scotts Road, Parua Bay, McLeod Bay, Taurikura and Urquharts Bay.
Pataua / Taiharuru estuaries and coastal areas
Large estuaries at Pataua aand Taiharuru flow into some of Northland's finest coastline. Sandy bays, rocky headlands, reefs and channels abound. There are great snorkeling and fishing opportunities....
Interested in any of these areas above? Please see our Tour pages for guided tours.
Other locations
Whangaruru Harbour
Whangaruru Harbour and open coastal areas is another excellent and safe area to explore with the added bonus of having a sheltered harbour to escape to when winds pick up. Options include a paddle from Oakura to Puriri Bay where you can camp at the DOC campground. This is a great base to explore the estuary and small islands and reefs where fishing and snorkeling are good in Summer months particularly.
Teal Bay (Ngawai Bay) and Bay of Islands
To the south is the best launching area for a journey to Mimiwhangata, site of the old Whaling station and now a DOC campsite. There are some delightful and private bays for picnics and swimming on the way. Rawhiti in the Bay of islands is an area to base exploration of the Bay of Islands. Kayaks can be delivered for multi day day only and advanced notice required due to the distance from our base at Onerahi.
| Our Hire Rates | Half Day (4 hours) | Full Day (up to 8 hours) |
| --- | --- | --- |
| Single Kayak | $60 | $90 |
| Double Kayak | $90 | $120 |
Delivery and drop off charges
| LOCATIONS | PRICE PER GROUP |
| --- | --- |
| Town Basin | No charge |
| Onerahi | No Charge |
| Parua Bay | $10 |
| Macleods Bay / Taurikura | $20 |
| Urquharts Bay | $40 |
| Pataua/Taiharuru | $50 |
| Ngunguru | $50 |
| Tutukaka / Wellingtons Bay | $60 |
| Matapouri/Woolleys Bay | $60 |
| Whananaki | $80 |
| Teal Bay | $80 |
| Oakura | $80 |
| Rawhiti (Bay of Islands) | $110 |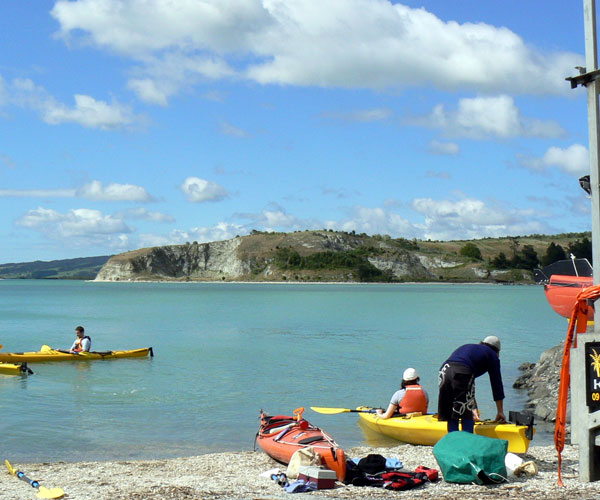 We Supply
Single or double sea kayaks
Personal Flotation Device(PFD) for each person
Paddles and sprayskirts
Bilge pump, sponges
Dry bags for your cellphones and valuables
Trip planning and weather information and maps
Complete safety briefing and paddling instruction
Safety information stickers on our kayaks
Back up service during your hire period
You Supply
As you need to be self sufficient for the day and responsible for your own safety you will need to provide the following items:
A charged cellphone ( + spare battery pack for longer trips, a vhf radio also reccomended for longer trips)
Personal medications and a small first aid kit
Water bottles and food items
Suitable clothing for the conditions, (best to layer up)
Warm clothing, footwear and hat
A light jacket required for cooler, wet or windy days
Suitable footwear such as rock shoes, wetboots, sandals and crocs ( jandals not suitable)
sunprotection such as sunblock, sunhat and sunglasses on a leash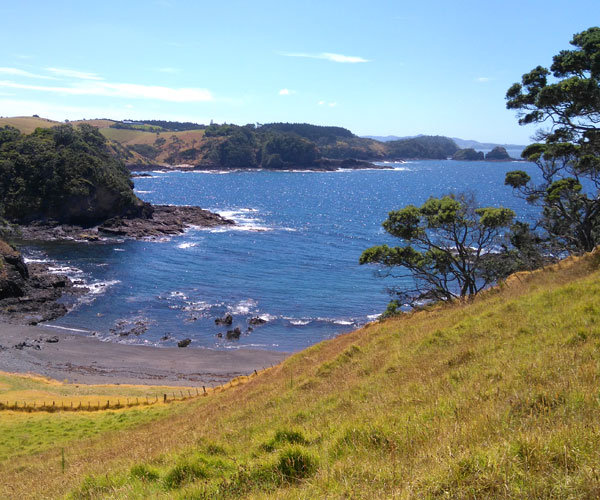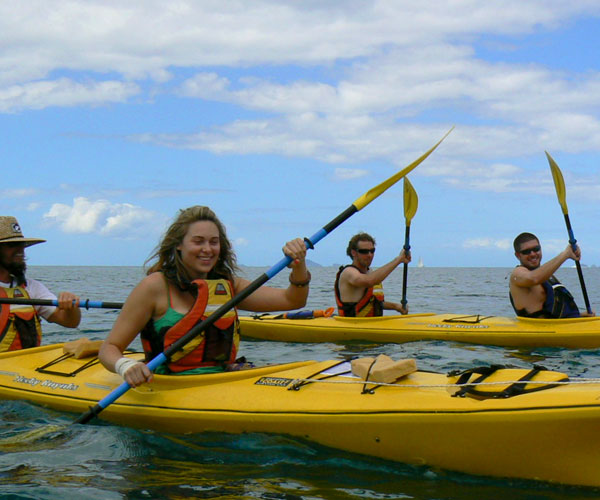 How to book a sea kayak
Prior to the hire please contact us ahead by email or phone to discuss a suitable trip plan and to arrange a meeting place and time. We appreciate plenty of notice, at least a day ahead to guarantee availability especially in the busy season
You will be asked to complete a Hire agreement form with a signed intention plan and provide a list of all the members of the group with relevant medical information included. An emergency contact number will also be asked for.
We will check that you are prepared for the conditions with your gear and will brief your group and provide paddling instruction where required *Emergency procedure will covered in your brief and a capsize drill will be demonstrated
We will help you on the water and check you can control the kayak before setting you off - we may even paddle with you for a while until you get the "hang of it"
We will be available during the hire if you need assistance - numbers to call are on your kayak or will be entered on your phone. There will be check in times for longer hire periods.
Please note for all hire trips
It is a condition of the hire that all persons in a self-guided group wear a correctly fitted PFD at all times on the water
There must be at least one person with water confidence and experience in managing risks on the water and able to respond to changes in weather and conditions
Groups intending to venture into deep or open water need to demonstrate a (dryland) deep water rescue before starting the trip
Allow extra time for gear preparation, loading your kayak and safety briefing before your hire period starts. Larger groups will need more time.